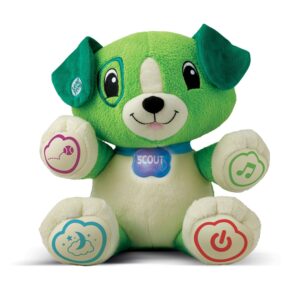 Three of my four kids have had a LeapFrog My Pal Scout or Violet. Our first born would have had one but I don't think they were made back then. These little interactive toys are so great! Here's why I think your little ones will love them too!
It doesn't just talk, Scout/Violet says your child's name, puts their name into songs, and engages the child on a personal level.  As soon as my kids realized it was talking to them they would laugh and try to make it do it again. It is still their favorite feature.
You can further personalize the Scout/Violet to sing/talk about your child's favorite animal, food and color.  The pup uses these favorite things in silly songs. Warning: they are catchy and you will get them stuck in your head!
When your child changes, so does Scout/Violet.  Anytime the favorites change you can just set the pup to match.  The cord to plug it into your computer (USB) is housed right in the back of the pup.  Once upon a time the cord was not attached.  Be thankful it can't get lost with these newer models.
It plays "Bedtime Music" to which you can decide how many minutes it will play.  My kids don't sleep to music so we've never used this feature officially, but they still like to press the paw and turn it on and off and on and off and on and off.
I would recommend this to babies 6+ months up to 2 years. My daughter is almost 4 and still plays with hers, but she's really too old for it now.