What is Drinkmate?
Drinkmate is a home soda maker and allows you to carbonate any beverage with its patented fizz infuser technology. Their signature home soda maker, Drinkmate OmniFizz, is available in a variety of stylish colors. We received the teal colored OmniFizz and it matches my other kitchen decor so I don't mind it sitting out on the counter!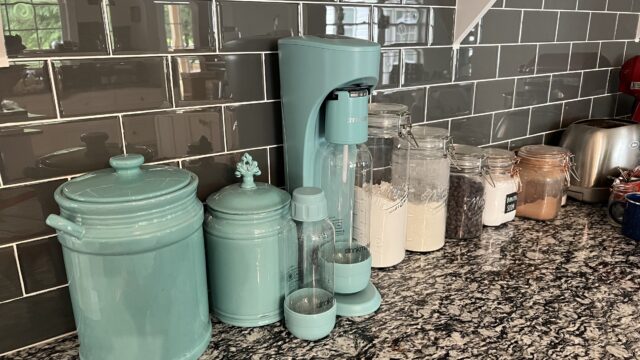 The soda maker comes with two different size bottles making different drinks for different group sizes easy.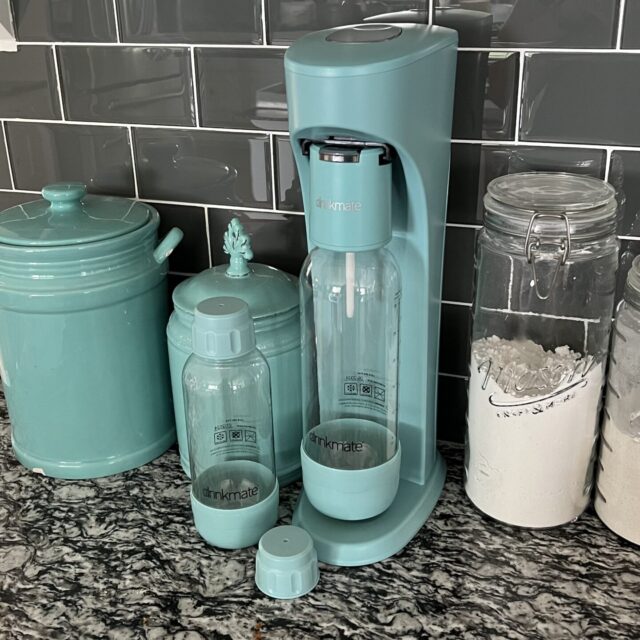 We found this soda maker very easy to use and had no trouble with overflow messes (like we saw in some videos of other brands.) Check out this video to see how easy it is to use Drinkmate OmniFizz:
Recycling at its best
The Drinkmate brand offers a convenient CO2 exchange program, where you send them your empty CO2 can and you get a discount code toward your next purchase! This cuts down on waste in landfills.
As I mentioned, Drinkmate OmniFizz comes with two different sized bottles that can be used again and again which helps cut down on disposable or single-use plastic bottles.
The Drinkmate bottles do have an expiration date and that date should be strictly adhered to by customers. Continued use of the bottles under pressure of the CO2 will eventually weaken the plastic, and plastic continues to breakdown even when not under pressure, so don't use the bottles after their expiration date.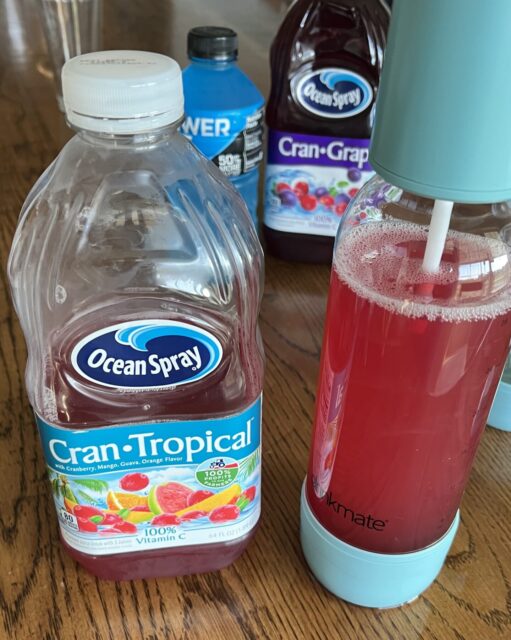 Things to Fizz
We put the Drinkmate OmniFizz to the test and we wanted to share what we loved, and what we didn't.
Fruit Juice – Highly recommended. We tried Ocean Spray Cran-Tropical (super yum!) and Cran-Grape and we loved them both. Cran Tropical was just amazing with fizz. It felt fancy, like a pricey mocktail. Cran-Grape was much like the sparkling grape juices we spend a fortune on for New Year's eve. Well no more! This coming New Year's Eve we will be fizzing our own grape juice at a fraction of the cost!
Poweraide – Meh. We found this sports drink lost a lot of flavor with the fizz and while it wasn't horrible, no one really liked it.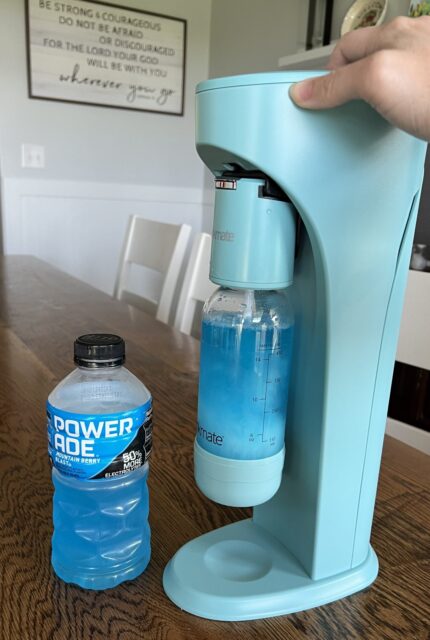 Drinkmate says you can also fizz other things like tea, coffee, wine, and cocktails. We were curious about dairy and after a quick online search we learned not to ever try to carbonate dairy (it curdles). We are coffee drinkers, but we all have to have our creamer so we haven't been brave enough to try it yet. I'll update when we do.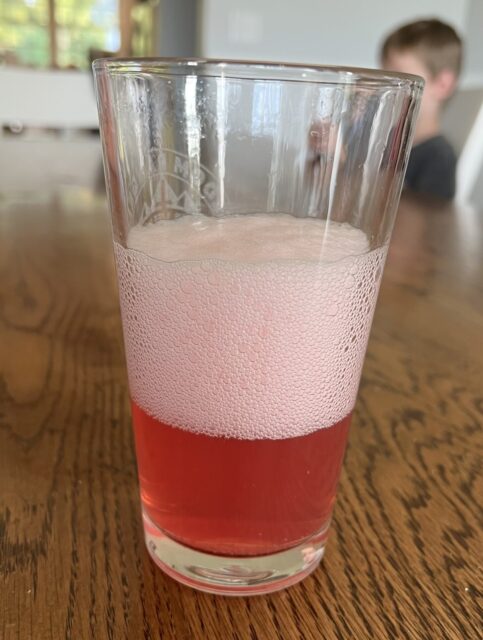 Drinkmate puts plenty of fizz into the drinks, so much so that I think we will try it with less on certain drinks in the future.
Our favorite part…
Its cute, it works, and it's fun, but our favorite part is it can re-fizz our favorite sodas! We don't drink a ton of soda around here, but we like to grab the occasional 2-liter of root beer or Coke for floats. The soda never stays fizzy after opening it (even out on the counter), but now we can use the Drinkmate OmniFizz to put the fizz back in those sodas!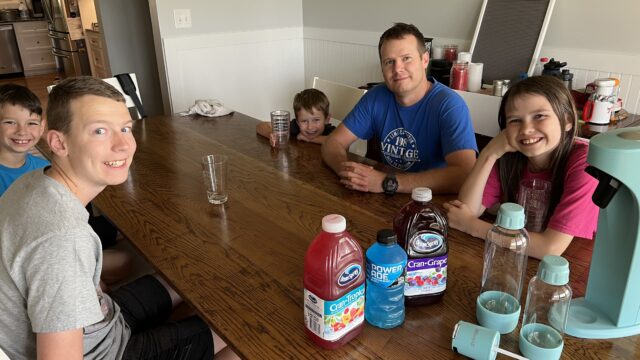 Discount code
Use code: PARTY20 for 20% off your purchase at https://idrinkproducts.com/. (Code is valid from June 9th – July 4th, 2023)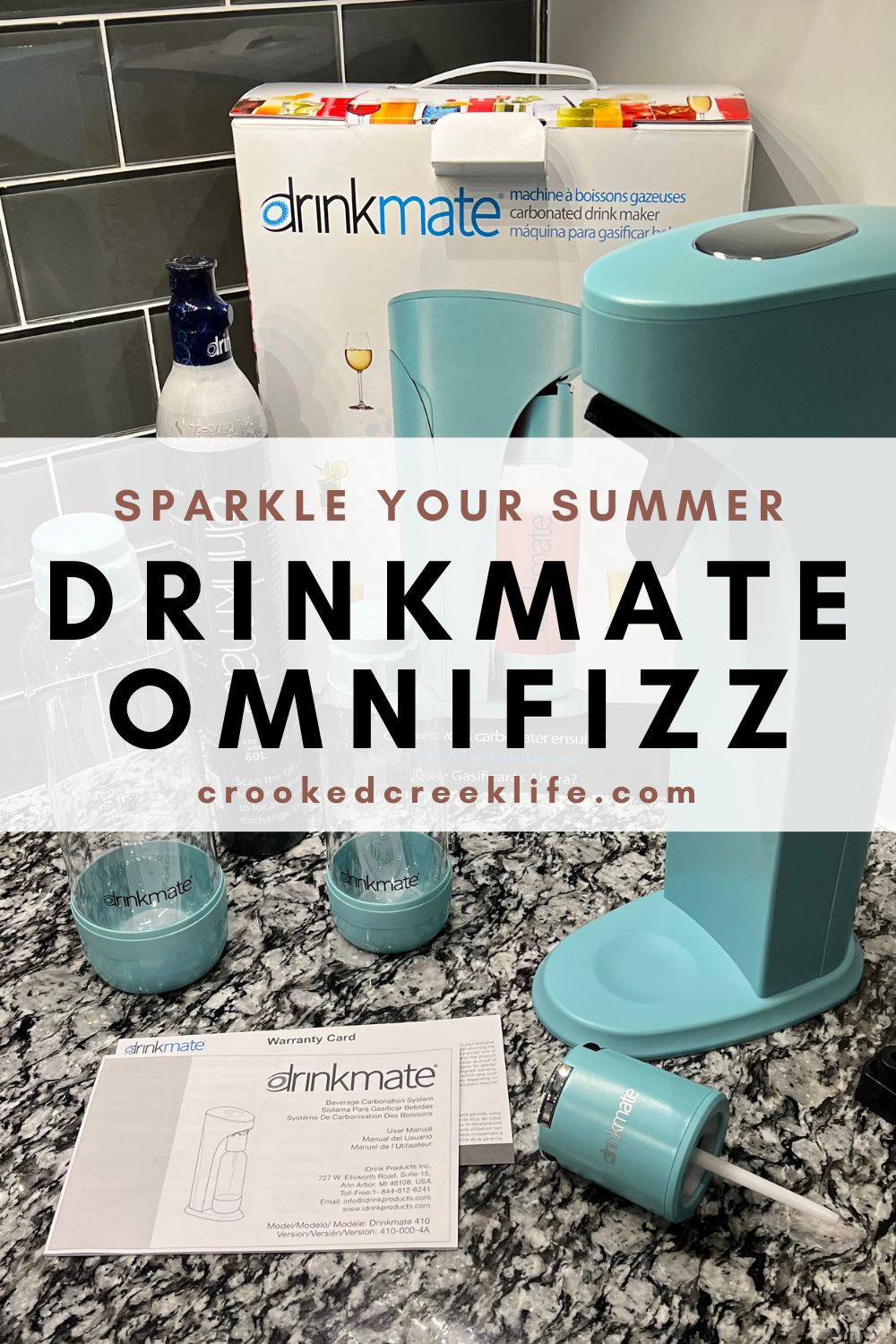 #tryazon #drinkmate #sodamaker #carbonation #bestbeveragecarbonator #bestsodacarbonator #reduceplasticbottlewaste #healthycarbonation #carbonateanybeverage #tryazon