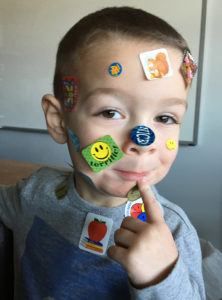 Way back when I had just one child I had few worries of mishaps and disasters related to stickers. I simply didn't see a problem. Of course there came an incident where he left the doctor's office and they gave him a sticker for good behavior. He stuck it on his shirt and we both promptly forgot about it. I remember the shirt. It wasn't particularly nice or even special to either of us, but when the sticker went through the washer and the dryer and made a huge mess on said shirt, I knew there had to be a better way.
We've all seen (or maybe you own) a car with stickers all over the inside of the windows or read horror stories of stickers all over walls, books, the TV, etc. I know moms who have outlawed stickers to avoid such scenarios, but I'm here to tell you: stickers aren't your enemy and you don't have to worry about them any more!
My Solution
So what did I do after this incident of the stickered shirt? Well he was 2 and I didn't want him to have to skip those stickers at the doctor's or at Kroger when the cashiers hand them out. I decided to get him a spiral scrapbook to start a sticker collection. BOOM! Mom of the year award was in the bag! The one I picked out had black paper and it was perfect. He has had it 10 years now – yes my baby will be 12 tomorrow – excuse me while I go cry in the corner for a few… And I'm back. He has filled this thing completely up.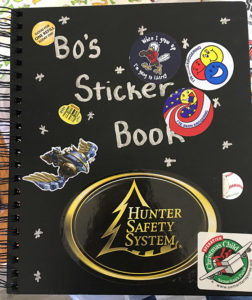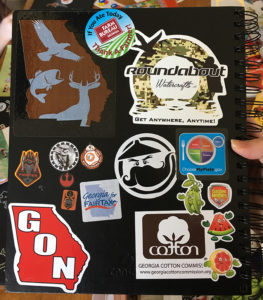 He collected stickers from everywhere (more on that in a moment) and when my other kids were old enough to know what stickers were they got a similar book too. When Drewdle was old enough they had stopped making spiral bound scrapbooks (the age of scrapbooking has definitely peaked) but our coil binding punch came to the rescue (again)! I ordered a ream of black card stock and made him a sticker book. I did make a booboo though – I let them design a cover paper then laminated it. I wish I had known before that black paper looks HORRIBLE laminated. Just. Don't. Do. It. Go with regular white paper if you want to laminate your own cover.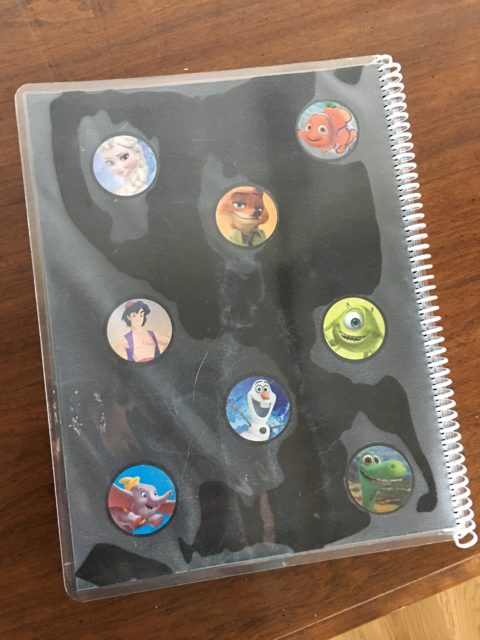 Rules & Enforcing Them
Now listen, a sticker book will not solve or prevent a sticker take over on its own. Rules must be set forth and enforced. My kiddos know they are not allowed to stick stickers anywhere except their sticker books unless I give them special permission. If they put the sticker somewhere else its gone forever (I remove it and make a show of it going in the trash), but in the sticker book they can keep it "forever". Occasionally they want to wear that Kroger sticker home on their shirt, but they know it goes straight in the trash when we come in the door. I'm pretty diligent with enforcement which I believe makes this whole system work.
Sticker Storage & Sources
We have a dedicated box in our homeschool storage closet just for stickers. All stickers go into this box. No exceptions.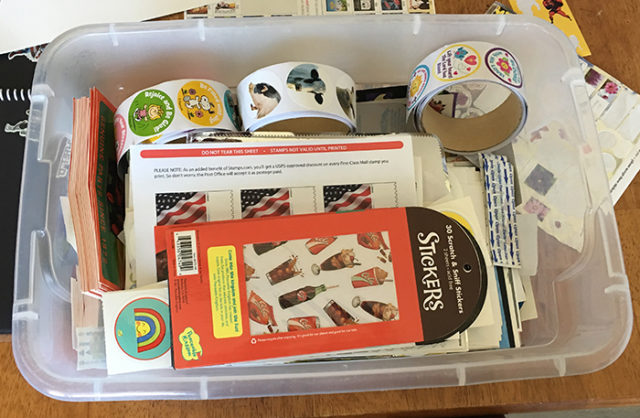 This box has about 15 years of "sticker saving" in it. We have stickers from my scrapbooking days like letters and random embellishments. Disney Movie Club is always sending us sticker sheets, both the good ones and those stickers that look like DVD covers. The kids love all of them. We get samples of return address labels, Easter Seal stickers, and more in the mail. We have been known to email our favorite brands and ask for stickers too.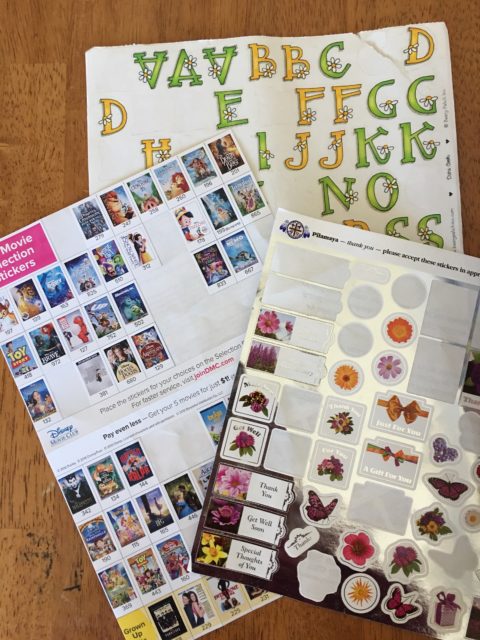 Kubota was especially generous when we wrote them about how much we loved our tractor.
Many brands include stickers in their packaging. Now you know what to do with those Apple stickers you don't stick on your car. Another place to grab some cheap stickers is the dollar store or Oriental Trading. They have nice rolls of stickers for all occasions.
We collected stickers from vendors when we attended the Sunbelt Ag Expo last year, and again at the GA Pecan Conference just to pass them along to the kids. See I just solved another problem: when stickers are a treat, they become a gift. Don't buy them a t-shirt or expensive souvenir on your next trip, just grab some commemorative stickers 😉
Sticker Day!
When stickers are a luxury kids will begin to see them as a treasured collection, not something to be taken for granted. This works best if you start when your kids are little, but it can't hurt to try with your older kids too. About once a month I pull out the box and they can choose some (or a ton) to add to their books. Those days look something like a giant sticker box exploded, well because it usually does.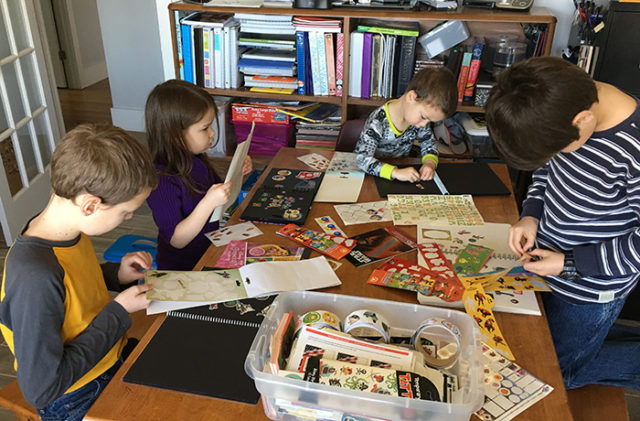 So get your kids a sticker book with lots of pages and grab yourself a storage box you can put up and away from the kids. Make a big deal about their collections,enforce the rules, and let go of your fear of stickers!!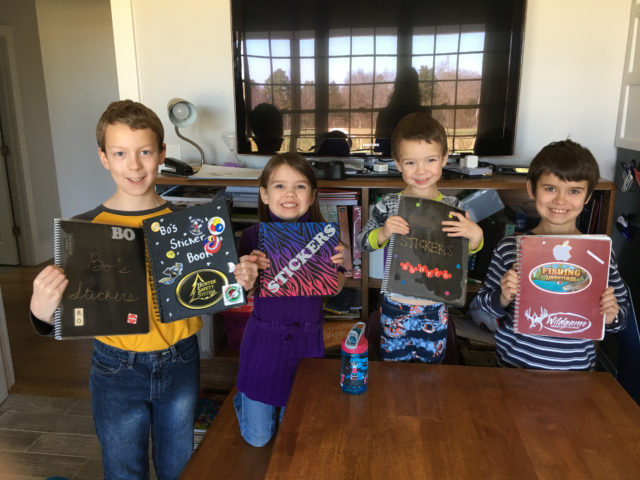 Pin for later: