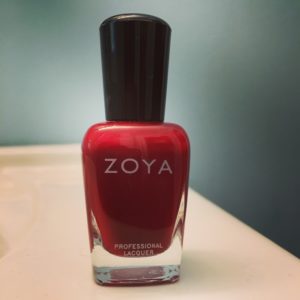 I went looking for a toxin-free nail polish to use on myself and my little girl. I immediately liked the info I found on Zoya products. They have formulated their polishes without 5 of the harmful chemicals found in most nail polishes. Several other companies (OPI, etc.) have removed the "big 3" but to me the fewer chemicals the better!
So I purchased two colors, a glittery peach/pink and a dark red. I like red for my toes and lighter colors for my fingernails. I got the glitter color for my daughter as well. The polishes were reasonably priced compared to other similar brands ($9 each).
The dark red is perfect — it's been on my toes (exposed during flipflop season) and hasn't chipped yet. The peach on the other hand chipped almost immediately even after I used a clear top coat.
All in all I am happy with the Zoya brand, but from now on I will stick with the darker, non-glitter colors if I want it to last more than a day.