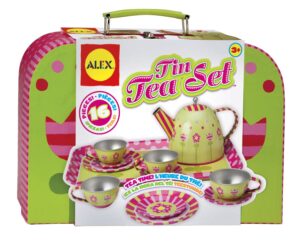 We purchased this cute little tea set for my daughter for Christmas (2015) hoping it would replace the plastic set she had (a few pieces were broken or lost) and it has a storage box. The little tea tray was also a great selling point. At first the set was everything we hoped for.
Here's what we liked: (+3 stars)
– The tea pot and cups are the perfect size.
– My daughter loves the colors (and they are easy to find).
– The cups are metal so they "clink" when she plays tea.
But we've encountered a few issues: (-2 stars)
– The box is not nearly sturdy enough for typical toddler play. Within a few weeks the pretty design paper had started to rip loose and the bottom and hinge area were weakened.
– The little tea tray bends very easily and it doesn't bend back to it's original shape.
We probably wouldn't purchase this set again because we bought it mainly for the storage box and tray. The price point is pretty high considering they are both lacking in durability.