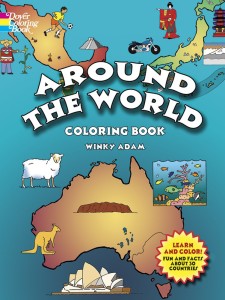 Around the World Coloring Book
by Winky Adam
My kids love this book as part of our World Geography study. We use Galloping the Globe along with this book and it has helped so much! Each page features one country, complete with a map, fun facts and interesting graphics they can color.
We usually take turns reading the facts and discuss each one, then color the map and graphics. I did get each of my kids their own (no one likes to share coloring books). If you do plan to use Galloping the Globe know there are a few countries missing from this workbook, but there are many more in here that aren't covered in GTG so you can either swap them out or find a different coloring page for those.
I would recommend this workbook for elementary teachers or parents who want to supplement their World Geography study to give visual learners a boost.