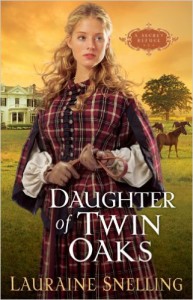 Daughter of Twin Oaks (A Secret Refuge Book #1)
by Lauraine Snelling
The story is good and I really did want to love this book but couldn't for several reasons.
It is very predictable in places which is fine to a point.
The book has several different plots to follow which again is fine, but this book gave no clear climatic event, therefore no resolution which brings me to
There is no closure whatsoever. Again series books are fine, but personally I do not want to purchase one book only to be required to purchase two more just to know how one plot ends. Individual books should have individual story lines and not be so dependent on the rest of the series so I feel I've read a "book" not just the first "section" in a larger book.
So I would recommend this book to anyone the above does not bother 🙂 because otherwise it is a good story. So all-in-all I give "Daughter of Twin Oaks" three stars because its "fine".