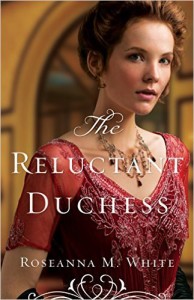 The Reluctant Duchess (Ladies of the Manor Book #2)
by Roseanna M. White
If there were 6 stars I would give them all to this novel! I say "I love this book" a lot and you are probably thinking "Yeah right, Sara. Don't you love every book you review?" The answer is no, I love a lot of books that come across my figurative desk (I don't have a desk, but you get what I mean), but I do not love them all. In fact there is a flaw in every book I read because no writer is perfect. The flaw with The Reluctant Duchess (Ladies of the Manor Book #2) is I hadn't read The Lost Heiress (Ladies of the Manor Book #1) so sometimes I felt a little lost, but not so much to detract from Brice and Rowena's emotional story. In fact this just made me want to go back and read Book #1 even more.
There are a TON of people in this book and it was hard to keep track of the names, but Ms. White includes a handy little character list at the beginning of the book (bookmark this page if you are reading on an eReader or Kindle.)
This book has it all: love, faith, desperation, fear, hate, greed, obsession, and even violence. I struggled to put it down and be useful until it was finally over and I could breathe again.
I would recommend this book to anyone who enjoys historical romance. I will be going back to read Ladies of the Manor Book #1 soon as well as watching for Ladies of the Manor Book #3!
Bethany House Publishers sent me this book to review. I was not required to give a positive review. All opinions are honest and my own.
(Originally posted March 27, 2016. Reposted April 5, 2016 for book's release date.)