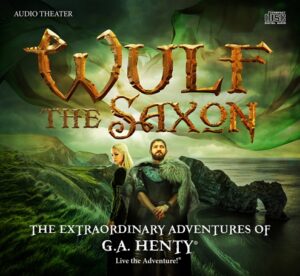 Several of my kids have trouble listening to things being read to them and retaining the information, and practice makes perfect, so we try to work on this often with audio books or radio shows. The wonderfully creative folks at Heirloom Audio Productions sent us Wulf the Saxon to listen to and review. Wulf the Saxon is just one in a series of Audio Adventures Heirloom Audio Productions has released called "The Extraordinary Adventures of G.A. Henty®". These adventures are all based on real historic events and full of the biblical principles I am trying to instill in my kids.
Wulf the Saxon is adapted from the book of the same name by G.A. Henty and it starts out on board a ship as two young siblings are squabbling. The kids meet a man onboard and he begins to share with them about the British nobility and how family shaped the history of Europe. Wulf and his comrades are shipwrecked on the coast of Normandy and thus sets in motion events that lead to a physical and political war for the English crown. The story finds Wulf on a mission to protect his king and has strong themes of patriotism and loyalty. There is even a little bit of romance thrown in too!

The narrator of the story is Brian Blessed, who, my Smidget was excited to learn, voiced Star Wars character Boss Nass. The crazy kid was instantly ready to listen to this audio adventure based on that fact alone. Go figure. But there are more voices that may be familiar to your family as well including Chris Larkin, Helen George, and Patrick Godfrey as Edward the Confessor (I recognized him as DeVinci in Ever After.)

So what's the difference in a regular audio book and an "audio adventure"? An audio book is a book read to the listener by one person, but an audio adventure is performed by multiple actors and actresses complete with sound effects as you would hear in a play or movie. I have listened to audio books and even radio shows before like Adventures in Odyssey, but I was excited to hear the differences between those and this audio adventure. Wulf the Saxon was very exciting to listen to because the story came alive through the voices, music, background voices, and sound effects. The story is fast-paced and did a wonderful job of keeping our attention for the entire two and a half hour long story. The fighting scenes were particularly captivating, especially for my boys.
My favorite thing about Wulf the Saxon and audio adventures is how it takes away the visual element and forces kids (and adults) to use their imaginations!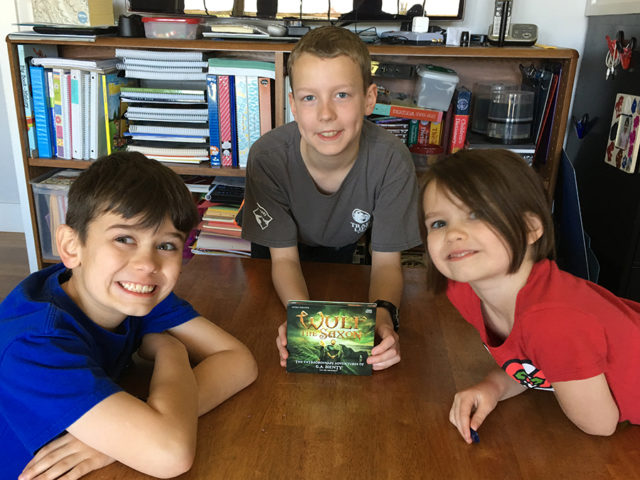 I wasn't the only one enthralled in the story. My children enjoyed listening to Wulf the Saxon as well, probably more than I did. My oldest son (12) kept shushing the little kids as we listened because he didn't want to miss a moment of the adventure. He even asked me to add it to his iPod so he can listen to it again on his own. Smidget (9) listened carefully as well, marveling at the history behind the story. They both kept asking questions even after the audio ended and we were able to have a lengthy discussion about the middle ages and the details they mentioned in the story. Lulu is only 5 and is still young to sit still and listen for long periods of time, but I was amazed at how much of the story she heard and retained. I would recommend this audio adventure to any family with kids aged 6-16, but everyone in the family will love it!

If your family loves audio adventures and you are looking for an economical way to acquire more, you must check out Heirloom Audio Productions' Live The Adventure Club. The monthly membership includes access to new audio adventures before they are released to the public, helpful resources, teaching tools and more. You will also have access to over 500 old-time radio shows you can stream for your family to enjoy.