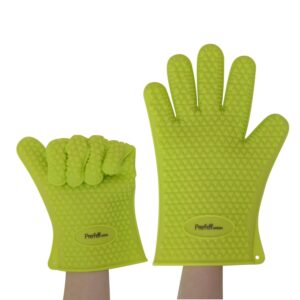 I've been curious about silicone bakeware and these gloves, but I've never been brave enough to try them until now. Prefer Green sent me a pair of their Silicone Grilling Gloves to try out and we really like these things! We tested them out while baking some potatoes in the oven and again during a cooking demonstration at my kid's TrailLife USA scout meeting. You can feel the heat through the gloves, but it doesn't burn your skin.
If you'd like to see these gloves in action, check out our video review:
I would recommend these gloves to anyone who cooks or grills. They are great to replace those pot-holders that singe or are bulky. Having fingers to grip tools or food makes all the difference. The silicone is non-slip so you can hold on to that plate of hot BBQ chicken or remove those cakes from the oven without dropping them.
I received a free pair of these gloves to test and review in exchange for my honest opinion.