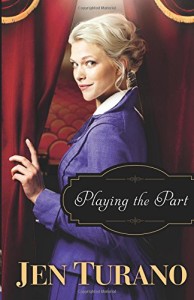 Playing the Part
by Jen Turano
Ms. Turano spins a fun and interesting tale! I wouldn't classify this a "sweet" romance, but it is full of deep and real characters who will keep you guessing. The story has mystery and intrigue along with a fun practical romance readers will love.
Lucetta is an talented actress with a photographic memory. She has a very independent streak which is ironic considering she has a full-time body guard and some helpfully overprotective friends. When an obsessed fan takes his interest too far, Lucetta goes into hiding at the estate of her friend's grandson.
At first Bram appears to be no more than an eccentric rich man who is obviously one of her fans, but odd events at his estate and the antics of the staff start to make Lucetta wonder if Bram is involved in criminal activities. Is Lucetta safe in hiding? Will she let go of her need for independence?
This book 3 in a series but in no way depends on the other two stories.
I received this book from Bethany House Publishers to review. I was not required to write anything more than my honest opinion.