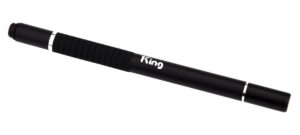 I was so excited to try out this precision-style stylus with my new iPhone 6S Plus, but I am more than a little disappointed. Before I get into what was wrong I'll tell you what I did like about the King Precision Stylus Pen.
The pen is great. It writes nicely and the ink dries very quickly.
The size is perfect. Many stylus today are so short they don't fit into my hand, but this one is just like a pen both in length and diameter.
So that's how it earned the two stars. So why did I deduct?
The clear disc stylus tips do not work well at all. They skip and you never know what part of the disc is doing the selecting. It should be calibrated to be the center, but it isn't.
It scratched my glass screen protector. Thankfully I didn't use this stylus directly on my iPhone.
There is no where to attach the pen cap while writing. The stylus cap does screw onto the pen cap end, but not vice versa. So to use the pen and not lose the cap you have to take off both and put the pen cap under the stylus cap. A pain.
The stylus tips are hard to remove. You pretty much have to break it to get them off. When you put it back together the spring is sprung and won't go back.
The rubber and spring part of the tips ware quickly. I used this stylus for less than a day before the rubber was already fraying and loose.
The idea behind this is a good one, but I think in this case "you get what you pay for" applies. If you want a precision stylus go for a better, more reliable brand.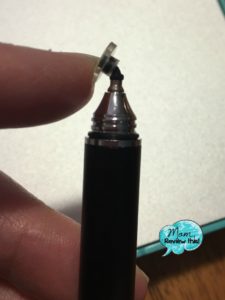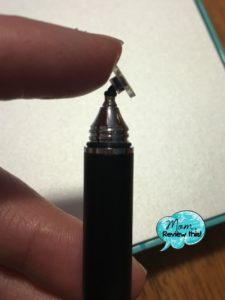 I received a King Precision Stylus Pen free to test and review. This is my honest opinion.