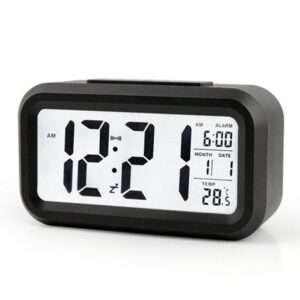 My kids (mainly the oldest) love having a clock in their room, but empty, easy-to-reach plugs are scarce so for the longest time they haven't had a clock. I am so happy with this battery-powered Digital Alarm Clock. It doesn't take up a plug and it has a ton of options!
Large, easy-to-read display
Easy to set time, date and alarm
12 or 24 hour time
Date
Alarm
Room Temperature (accurate too!)
Light-Up display with daylight sensor (or you can turn that off to save battery power)
Super bright light to check the time at night
Light weight
I received a discount on this clock to try out and review it. I have given my honest opinion based on thorough testing.