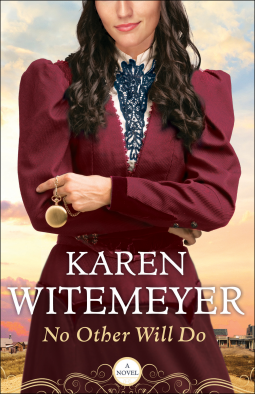 No Other Will Do
by Karen Witemeyer
When you run a town meant to be a haven for women in trouble, trouble is bound to follow. Emma finally admits their town needs some help to stop the unknown attackers trying to run them from their homes. So she writes to the only man she's ever trusted.
Malachi always struggled to belong and never felt he deserved love, but his loyalty to Emma and her aunts causes him to drop everything and come to their aid. He promises to help in whatever way he can, but the trouble gets deeper when his feelings for Emma flair to life again.
I really love this sweet book! Karen Witemeyer is one of my favorite authors and she hasn't let me down yet. I was worried at first because I don't usually like "power woman" type books (what says feminism more than a town just for women), but No Other Will Do turned out to be a wonderful read from beginning to end. The story is full of a humorous bunch of characters as well as a big dash of suspense.
I would recommend this wonderful novel to anyone who enjoys fiction set in the 19th century old west and anyone who likes a little love and a little excitement in their books.
Bethany House Publishers sent me a copy of this book to read and review honestly.