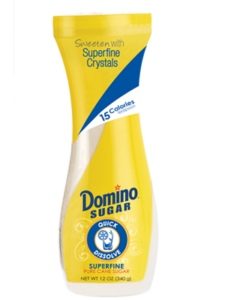 Domino® Quick Dissolve Superfine Sugar has been such a great addition to my morning coffee routine! The granules dissolve VERY quickly which means I don't have to spend so much time stirring and can spend more time drinking.
Domino® says: "Domino® Quick Dissolve Superfine Sugar has finer sugar crystals than those found in traditional granulated sugar, allowing it to rapidly blend when sweetening hot or cold beverages. Ideal for hot coffee, and even cold drinks like iced tea, lemonade or smoothies."
I wanted to see the difference so I setup a little comparison.

As you can see the Quick Dissolve Superfine Sugar is about 1/2 the size of traditional sugar. Don't worry though – it tastes the same!
So why only 4 stars? The canister is hard to open! The little pop-top broke my fingernail when I tried to open it the first time. It doesn't create an air-tight seal so I'm not sure why it snaps closed so hard. I cleaned all the granules out of it and it was still super hard to pop open. Not a huge deal, just something to remember each time so I don't break more nails or spill it.
Overall I really like the new Domino® Quick Dissolve Superfine Sugar and will keep some on hand for coffee and tea as well as other baking needs like meringue frosting or shortbread cookies. For more recipes and nutritional information check out the Domino® website.
I received a free sample of Domino® Quick Dissolve Superfine Sugar to try and give my honest opinion.
SaveSave