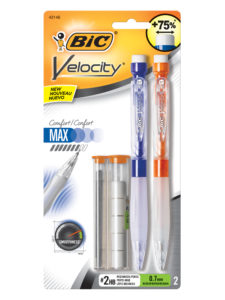 When you love school and office supplies like I do, you've tried a lot of pencils. I figured these wouldn't be much different than all the other mechanical pencils I have, but I was mistaken.
These BIC® Velocity® Max Mechanical Pencils have a nice smooth lead and a HUGE eraser! One of the biggest problem with any pencil is how quickly the eraser is gone – you're stuck with a great writing pencil and no eraser. Well, that isn't an issue you'll have to worry about anytime soon! The erase is 75% wider eraser compared to BIC® Velocity® Original Mechanical Pencil. The pack of two pencils comes with 5 eraser refills too!
Aside from the nice big eraser, the lead in these pencils is nice and smooth. I also love the comfortable gel-like grip. It isn't too squishy or sticky and just the right amount of texture. The kids loved the cool colors (blue and orange) and how dark the lead is. They've already run off with both of the pencils we received free to review.