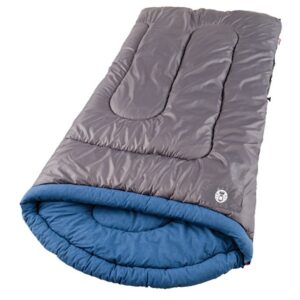 Our family does a lot of camping due to the boys and myself being in a scouting organization and enjoying the outdoors. I have been camping since I was a kid and have slept in numerous sleeping bags and have owned numerous coleman sleeping bags. I bought this Coleman White Water Large Cool-Weather Scoop Sleeping Bag from Amazon when it was a lightning deal back in November 2015. I have used the bag solely on our camp-outs since then. I have slept in it over a dozen nights under the stars in different temperature and weather conditions. Majority of the nights have been clear and low humidity with temperatures between 35-65 degrees.
This bag could sleep one and a half people (me and one of my kids) or one large person hence the name "large" in the title. In the description on Amazon says the bag is designed for 30-50 degree weather. We spent one weekend under the stars in the lower to mid 30s and it was cold and needed another blanket, however other nights between 40-60 degrees it is very comfortable.
So I would rate this sleeping bag 40 degrees and above. We do live in Georgia and humidity is high even in the winter time so in another climate 30 degrees may be comfortable in this bag. I liked that it is very comfortable sleeping on the ground with one of the most comfortable interiors of any sleeping bag i have slept in. The sleeping bag is made of 100% Polyester with 100% cotton fill. Overall a great deal if you can find it on sale.
Positives:
Oversized for comfort
Zipper does not get stuck in the material
Comfortable (40-60 degrees)
Five year warranty on stitching and workmanship
Negatives:
Is not comfortable low to mid 30s
Does not come with storage bag