Why Simplified Watercolor?
You want to express yourself through art. You get out all the paints, mix them, get started, and then the mom life happens. The baby cries, the kids need a snack, someone is fighting… you know the drill. So you have to leave the art, but by the time you come back the paint is dried up and useless. Now you have to start the process all over again. Sound familiar? Simplified Watercolor is for you!
Or maybe you are like me in another way: you have no idea how to get started with painting and you just want a medium that is both simple to use and simple to learn. Simplified Watercolor is for you!
I received this Simplified Watercolor kit from Emily Lex to review and this is the first time I've been truly excited to do a blog in a long time!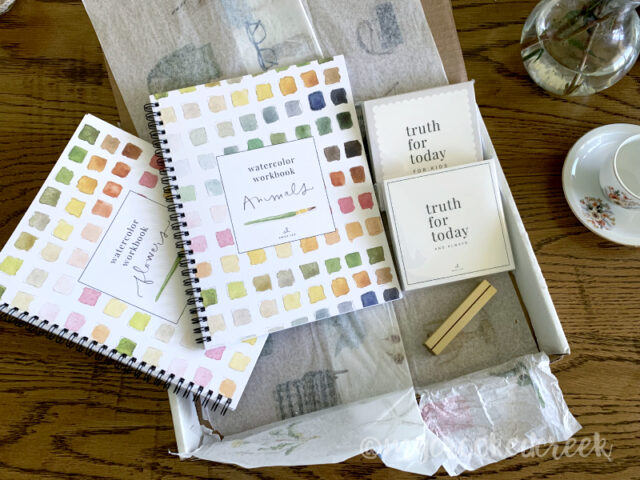 Emily offers simple and easy to follow watercolor courses for adults and kids! The first few lessons cover supplies, color theory and the basics of using watercolors.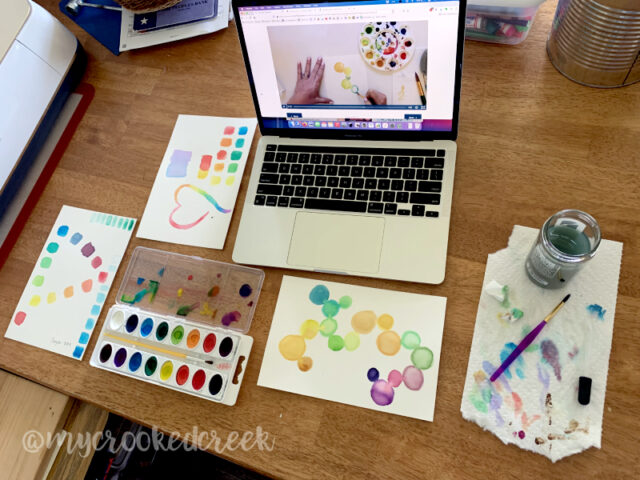 My Supplies
I wasn't sure how "invested" I wanted to get so I used the kids' cheap watercolor palette (I wouldn't recommend) at first but it wasn't long and I had to grab a better set of watercolors and a little palette to use.  I went with liquid watercolors (more paint for the $) and per Emily's instructions I just squeezed a bit out in the palette and let them dry overnight.  I got my set from Hobby Lobby like this one and this palette.  My brushes are this set and they are great.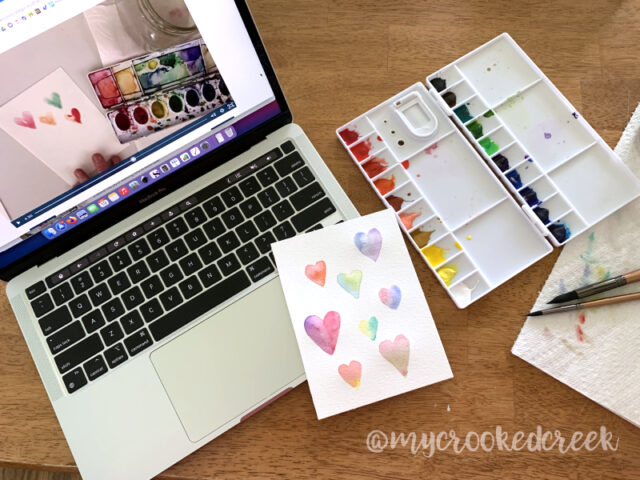 I have NEVER considered myself an artist or artistic at all. Crafty, yes, but not artsy. I can't sketch, paint, draw, or anything of the sort without an in-depth tutorial to follow. I never tried watercolor until two weeks ago (yes for real), so what I say next you can believe: Anyone can watercolor AND make beautiful art!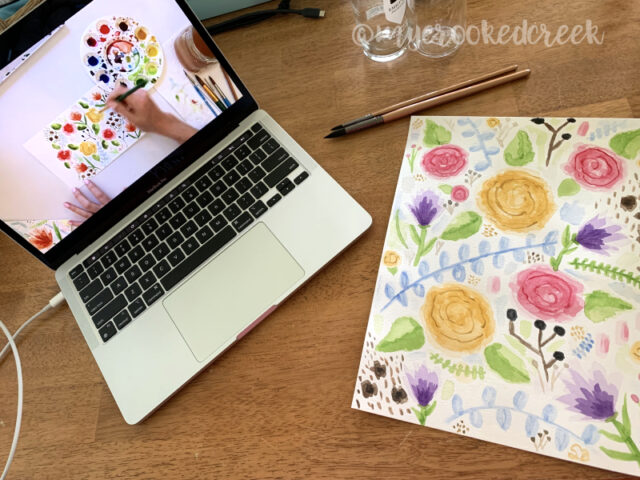 My favorite thing about watercolor is you can pick it up anytime, just about anywhere, and between all the other things of life. It just fits right in as time allows. The watercolor palette dries between uses (the pigments are still fine), so you just add a few drops of water when you're ready to start again. Even mixed colors stay where you left them and just need to be dampened again. The painting is just how you left it and ready for another layer or some details.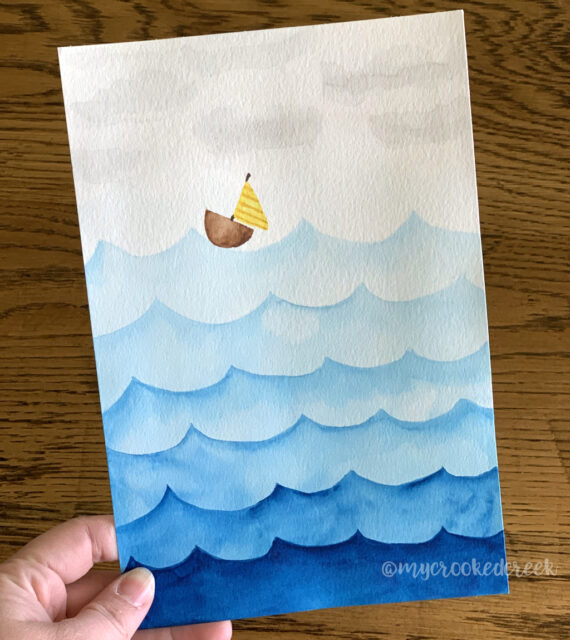 This ocean scene was part of lesson 5 and it turned out so cute!!  The waves are all the same shade of blue, just watered down to create depth.
Simplified Watercolor Workbooks
After taking the Simplified Watercolor course by Emily Lex, I had to try her adorable watercolor workbooks! She has one for animals: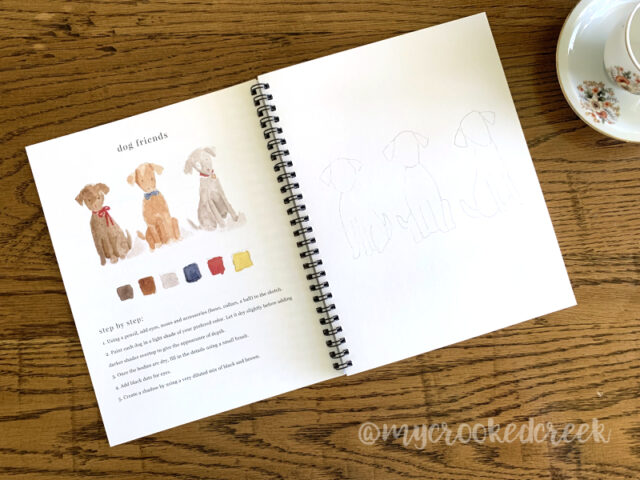 And she has one for painting flowers: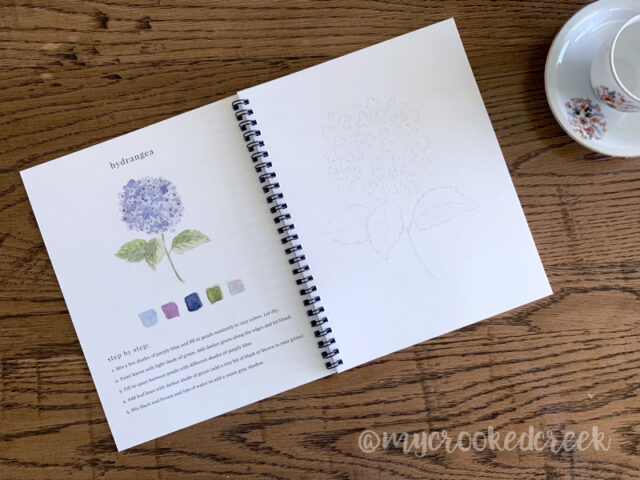 I love these little books! Emily lists which colors you need and simple instructions for painting each picture. I painted this little bird after only about 10 days of practicing the techniques in her classes. See? Anyone can create beautiful watercolor paintings!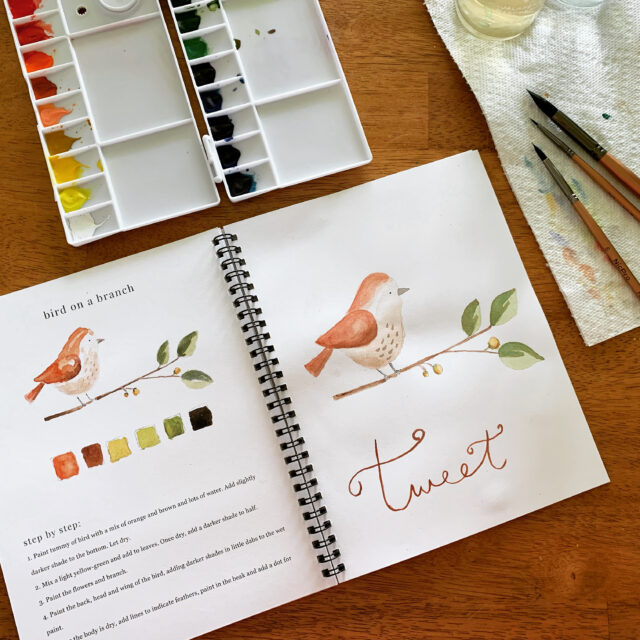 Truth for Today Cards
Something else Emily offers are "Truth for Today" cards (a set for adults and a set just for kids). These cute cards all feature a watercolor image painted by Emily and an encouraging verse. A chic gold stand is also available so you can display the cards on your desk or counter for an all-day reminder.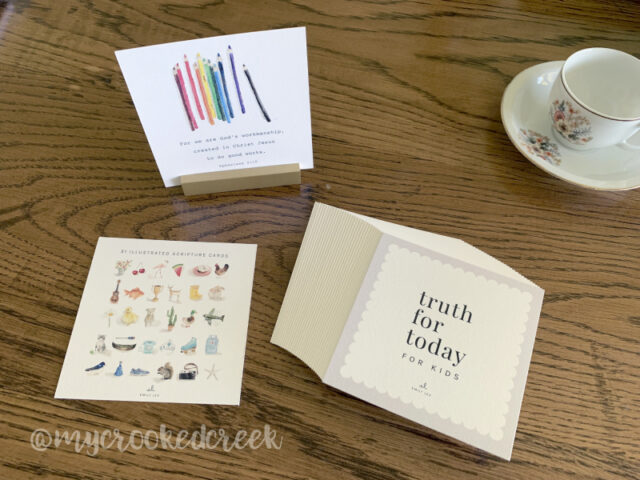 Emily Lex creates beautiful art and wants to help you do the same.  Her beautiful products walk you step by step through how to watercolor.  Learn more about Emily here and on Instagram.  Don't forget to check out her shop and her classes here.
May Flowers Giveaway
Emily is also hosting an amazing giveaway on her website where the winner will receive all these goodies!! (Click image to enter)
I received these products and courses free in exchange for my honest review.