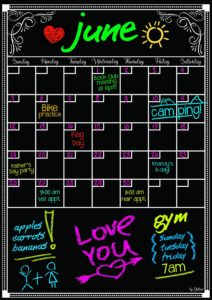 If you are like me and prefer a reusable calendar to paper calendars (I always forget to change the month) then you would enjoy this Detier Dry Erase Calendar Magnet. Here are some of the fun features:
Good size. The blocks are decent size to make your schedule and the note area is large with plenty of room for reminders, etc.
Super smooth. I used liquid chalk markers on my calendar and they wipe right off with just about anything. I use my finger when making quick changes, but recommend a dry paper towel or soft cloth when changing the month.
Strong magnet. Once in place it doesn't budge unless you peel the whole thing off, so get it where you want it and plan on it staying there.
I would recommend this calendar magnet to anyone wishing to have a creative and fun calendar on their refrigerator (or other magnetic surface). I received a discount on this calendar in exchange for thorough test and an my honest review.