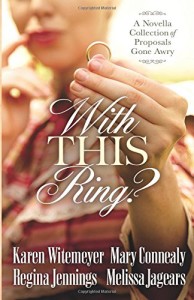 With This Ring?
by Karen Witemeyer, Mary Connealy, Regina Jennings, and Melissa Jaguars
Get ready for four quick and fun reads! This collection of novellas (short novels) is perfect for poolside reading this summer or even days you're stuck inside because of rain.
I am very familiar with Ms. Witemeyer, Ms. Connelly and Ms. Jennings and I love just about everything I read from them. Ms. Jaguars is the only new-to-me author in this collection and her writing style fit in perfectly.
Each story is short and sweet. I read the whole book over three days (usually in the evenings when my kids were in bed) and on average I would say each novella took me three to four hours to read.
The books aren't full to the brim with details or backstory, so there is plenty left to your imagination, but there is plenty of feeling and fun throughout. To me the most memorable of the four stories is "Her Dearly Unintended" by Ms. Jennings where two childhood friends who've grown apart are stranded together on her family's farm with a dangerous stranger and are forced to pretend they are married.
I would recommend this novella collection, With This Ring? to anyone who loves fun inspirational fiction!
I received a complementary copy of this book from Bethany House Publishers to review. I was not required to write anything other than my honest opinion.