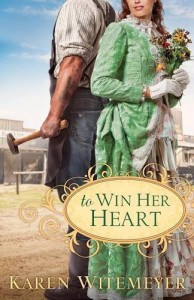 To Win Her Heart
by Karen Witemeyer
Levi, a newly released convict and ex-prizefighter, and Eden, the town librarian, seem like a mix-matched pair at first. In this case the old adage "opposites attract" is certainly true and Witemeyer pulls it off perfectly.
The entire length of this book I was cheering Levi and Eden on as they made small steps toward falling in love and letting go of the past. This is a wonderful story that captured my heart while the characters were capturing each others.
I read a lot of books. Not often do I read a book and feel like I know the characters and can feel their emotions. Not often do I read a book that makes me cry on the last page. To Win Her Heart has it all!
I received a copy of this book from Bethany House Publishers to review as a part of their Book Reviewer's program. I was not required to write a positive review. The opinions I have expressed are my own.