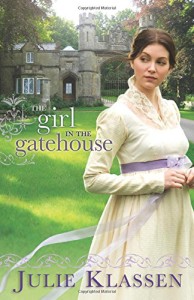 The Girl in the Gatehouse
by Julie Klaassen
For those that read the synopsis and think this is "just another Regency period book about sailors" you couldn't be more wrong! Yes, there are the typical `Austen' marks on the book that we see on all books set in this period because, let's face it Austen made her mark on us all. However, Klassen left her own mark with this sweet book.
I loved the realness of the characters. The heroine is a `fallen dove' disowned by her family that struggles to pay the rent by writing novels in secret. The hero is determined to win over an engaged women by impressing her with his newly-earned `blood money'. They both far from perfect but that is what makes a perfect book: the right amount of real and `happily ever after'.
This story has lots of depth and color with a wide, sometimes humorous array of supporting characters and even a little mystery thrown in.
I received a copy of this book from Bethany House Publishers to review as a part of their Book Reviewer's program. I was not required to write a positive review. The opinions I have expressed are my own.