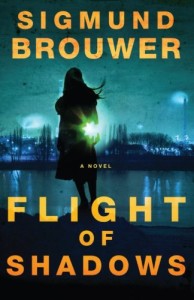 Flight of Shadows: A Novel
by Sigmund Brouwer
I liked this book very much but I wanted to like it so much more. When I first started reading Flight of Shadows I knew it was different. Most books you know (or can guess) where the story is leading, but this was hard to picture in my mind and even harder to figure out where the story was going until it ended and I was left thinking "Okay it all makes sense now, but what about…"
I gave this story only three stars for two main reasons. The first being the descriptions and details left much to be desired, both the scenes and the people. To enjoy a book I need to feel like I'm there. If you enjoy minimalistic writing — straight up plot and not much else — then you'll like this book.
The second reason I give Flight of Shadows only three stars is because everyone, besides the main character and one or two others, seems to be evil and untrustworthy, until the very end of the book. Spending the whole book thinking that everyone is bad gave a very hopeless outlook on things. Naturally everyone did not end up being selfish and evil in the end but this still put a big damper on the story.
I did enjoy the futuristic ideas behind the book and I could definitely picture something like the class systems and loss of civil liberties happening in America's future.
I received this book from WaterBrook Press through the Blogging for Books program. I was not required to write a positive review. The opinions I have expressed are my own.