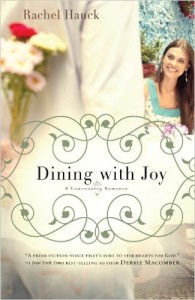 Dining with Joy (A Lowcountry Romance)
by Rachel Hauck
I'm not sure what it is about series books…I almost always find the last book first! Dining With Joy is book number three from Rachel Hauck in her "Lowcountry Novel" series and it is a delightful read and, as usual, I want to go out and find the first two books.
Joy is a down-to-earth gal who is only trying to fulfill a promise to her dying father, but keeping that promise has become tricky. She has, with some help, created a not-so-cozy web of lies. Joy is star of a television cooking show, but one problem: she can't cook! Enter Luke, a handsome, real chef who has as much business being on a television show as Joy does being in the kitchen! Together they make for a hot new show since it's a recipe for spicy romantic tension, but when Joy's secret hits the blender it won't be pretty for either of them.
Dining With Joy is a fun book that was hard to put down. You know that disaster is coming from the beginning of the story, but the pages will keep turning as you hurry to see how bad the explosion will be and, more importantly, how the Joy-Luke recipe turns out. Can they handle the heat?
I received this book from Thomas Nelson Publishing through the BookSneeze.com book review bloggers program. I was not required to write a positive review. The opinions I have expressed are my own.