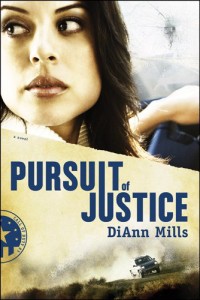 Pursuit of Justice (Call of Duty)
by DiAnn Mills
I do not typically enjoy the all-too-common "power-woman" type books – with a career/power hungry woman as the main character – so it was hard to get into this read at first, but after the first few chapters I was surprised that it turned into such a page turner and a sweet love story.
Bella is an FBI special agent in hot pursuit of a murder (or two, or three). When the case leads back to the area where she grew up there are sure to be problems since she isn't willing to face her past just yet.
The Spider Rock treasure's latest murders and the evidence seem to point to a new suspect, Carr. Unfortunately his past also raises suspicions that Bella can't ignore. Chemistry between them builds and finally convinced of his innocence, Bella's Pursuit of Justice shifts from finding the murderer and getting a promotion to finding the real murderer and clearing Carr's name.
DiAnn Mills does a great job of creating real characters that we can like and others that we can dislike and even fear. Bella and Carr are believable and their feelings for each other naturally develop and hit all the right snags to make the story one that could actually happen.
I received this book from Tyndale House Publishers through the Tyndale Blog Network. I was not required to write a positive review. The opinions I have expressed are my own.