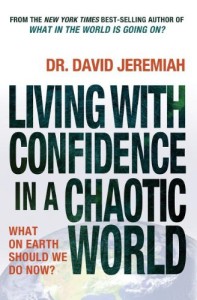 Living with Confidence in a Chaotic World: What on Earth Should We Do Now?
by David Jeremiah
This isn't usually the kind of book I read but my pastor enjoys reading Dr. David Jeremiah and I thought I would give this book a try. It was hard to read at first, not because of the style or language but because some of the facts Dr. Jeremiah shares as examples are down right scary! Our world is truly chaotic whether we want to admit it or not. The good news is through examples and stories Dr. Jeremiah explains how we can cope, live confidently in this world that isn't our true home.
Dr. Jeremiah gives ten things that Christians today need to be, things we need to focus on to maintain our faith and fulfill God's purpose for not only our lives, our existence, but these things also help us to understand why God has allowed (yes allowed) our world to become so chaotic. Even more importantly these ten points (all cleverly starting with "C") help us to realize that God is in perfect control, that our world only seems chaotic to us simply because we cannot see the whole picture.
I very much recommend this book to anyone who wants to better understand that blind faith in God's sovereignty is hard but always better than the alternative – living in a chaotic world without hope.
I received this book from the publisher through the BookSneeze.com book review bloggers program. I was not required to write a positive review. The opinions I have expressed are my own.