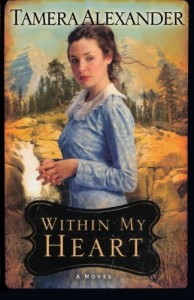 Within My Heart (Timber Ridge Reflections, Book 3)
by Tamera Alexander
Book 3 in the Timber Ridge Reflection series is excellent! This book is full of colorful, deep characters and meaningful plots that work together beautifully to form a warm, interesting story that is worth reading again and again. Rachel is a widow with a bit of a chip on her shoulder. Rand is a skilled doctor with a deep secret fear. As the story develops both characters are forced to deal with their problems and their growing love.
I really enjoyed Alexander's descriptions throughout the story. Against the grandeur of the Rocky Mountains, this story is vivid with details about the town and near by hot springs resort. Alexander also gives informative descriptions of Rand's medical practice and skills that helped understand various details of the story without being superfluous. Adding dimension to the story are Rachel's two sons and an assortment of towns people and friends.
My only regret is that I read this book before I even knew about the first two books in the Timber Ridge Reflections series. This story is completely independent from the others, though the characters from the first two are mentioned in this book and I imagine some closure for some side-note issues in the other books is finally given in this book.