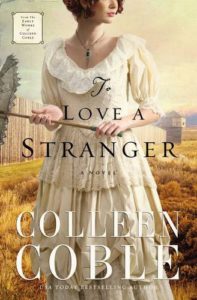 To Love a Stranger
by Colleen Coble
Bessie and Jasper are stuck for the moment, married by proxy. Bessie is angry with her sister for corresponding with Jasper in her name and agreeing to become his bride. Bessie has little choice but to keep the commitment made in her name and travel to the Utah territory to meet her new husband. She is not who or what Jasper is expecting.
Jasper was expecting a tall, vibrant and beautiful woman, but the real Bessie is everything but. This Bessie is timid and frail-looking, and not what anyone would consider a beauty. He feels duped and angry at first, but when his transfer to Arizona is moved up he is forced to take Bessie along with him. Jasper fully plans to annul their marriage when they arrive, but his plans begin to change when he gets to know the real Bessie.
Bessie and Jasper's relationship struggles through insecurities and the hardships common in a new relationship, but more so because of how they came to be married. Along the way to Jasper's new assigned Fort, Bessie finds an abandoned native baby and they care for it, adding even more challenges to their marriage.
I enjoyed the adventure of this story and how the love between Bessie and Jasper grew slowly and realistically.
I received a copy of To Love a Stranger from Thomas Nelson Fiction to read and give my honest review.