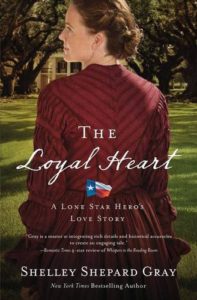 The Loyal Heart
by Shelley Shepard Gray
Amid the tragedy and pain of post-war Texas, this book is full of heartwarming and heart wrenching drama. I really enjoyed the bit of suspense thrown in as well. I love Civil War era books and this one is especially interesting because we get a close-up look at life for imprisoned soldiers. This book does a wonderful job painting a picture of what life was truly like for southerners after the war.
Miranda is living a solitary life while being threatened from several sources and ostracized by the whole town. Rumors of her husband's actions in the war have turned everyone against her, and her boardinghouse is struggling to provide for her. Miranda suffers from severe depression and feels like she lives under a dark cloud of hopelessness. I really liked how Miranda had real emotions and how we see her journey of healing.
Robert made a promise to Miranda's husband during their imprisonment to help watch over her if he died. He arrives in town hoping to check on her and be on his way, but things are worse than he could have foreseen. Robert determines to stay as long as it takes to fix Miranda's problems and even decides to call in help from his former officers. I enjoyed Robert's character because he is selfless to the point that he doesn't feel worthy of Miranda.
I throughly enjoyed The Loyal Heart and I would recommend it if you enjoy gentle romances, genuine emotions, and post-Civil War Reconstruction Era stories.
I received a copy of The Loyal Heart from Zondervan Fiction to read and give my honest feedback.