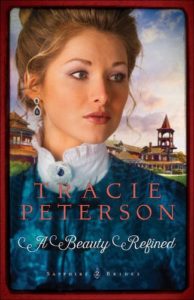 A Beauty Refined
by Tracie Peterson
I have been a fan of Tracie Peterson for a very long time and her ability to weave a complex tale never ceases to amaze me! Her newest series is set in Montana and the small but beautiful sapphires mined there. Though I missed book one (I'll have to catch up on it later), book two in the "Sapphire Brides" series is a great suspense story with a splash of love. While the love story between Phoebe and Ian was a little lackluster to me, I truly enjoyed this story for several other reasons.
My favorite part was learning about the process of refining the sapphires. Ian is a lapidary which is a person who cuts, polishes, or engraves gems (yes I had to look it up before I got very far into the book). He begins work for Phoebe's father. Little does Ian or Phoebe know the powerful count is not being honest about the sapphires or his plans for his daughter's future.
I also enjoyed the subplot about Phoebe's missing mother and how she comes to learn what kind of man her father truly is. Phoebe has to face some hard truths about him and herself. I always enjoy a story where the characters grow and learn something.
I received a copy of A Beauty Refined from Bethany House Publishers to read and give my honest review.