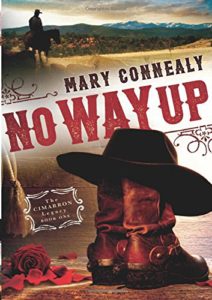 No Way Up
by Mary Connealy
If you love western adventure you will love this new one from Mary Connealy! This is the first in her new series called "The Cimarron Legacy" and it is full to the brim with suspense, family love, and a sweet romance.
I really like Heath Kincade (the youngest brother of the Kincade brothers from Connealy's "The Kincade Brides" series, which are all fantastic too!). Heath is just a ranch hand at the Boden cattle spread but he is soon thrown in the middle of their troubles when the boss is nearly killed and his kids are all called back home to stay. Heath is a wonderful source of humor throughout this book and I really enjoyed his dedication to the family he comes to care for.
Sadie Boden feels God has called her to work in a orphanage in town near her family's ranch, but the terms of her father's will state she, along with her two older, stubborn brothers, must live at the ranch and run it together for a year or forfeit the ranch to a despised relative. Even though her father still lives, he enacts this stipulation on them while he is away for treatment. Sadie soon puts aside her upset about the whole ordeal when they begin to suspect her father's injuries were not an accident, but rather a detailed plan to take his life. Sadie, Heath, Cole and Justin have to work together to figure out who tried to kill Chance Boden and why.
I really enjoyed the vivid descriptions of scenery throughout the story. I also greatly enjoyed the gentle romance that grew between Sadie and Heath. The mystery, adventure, and love all worked together for a well rounded story and I can't wait for the next installment in this series!
I received a copy of No Way Up from Bethany House Publishers to read and give my honest review.