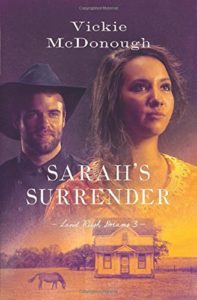 Sarah's Surrender
by Vickie McDonough
This is the 3rd of the series "Land Rush Dreams". I hoped the unusual theme of the early 20th century land runs and lotteries would make this book shine, unfortunately there was too much detracting from the story. Before I get into what I didn't care for, I did enjoy the descriptions and had no trouble imagining the settings and events which is always nice in a novel. I also liked Luke's persistence. He seemed to carry the love story of this book and I finished it hoping for the best because of him.
The biggest problem I had with this story was everyone had eyes for Sarah. Luke along with nearly every man she came in contact with in the story either fell in love with her or wanted to marry her. This sat wrong with me as it wasn't very realistic. The only exception to this was her friend/brother figure from the family she was raised with. And if their lack of romantic feelings was mentioned, it was mentioned twenty times. The assurances of their friendship/familial affection was overdone, almost to the point of "doth protestith too much". This character could have easily been written to be her real brother or even an uncle to avoid any further romantic interests, though I doubt one more would have mattered.
I also couldn't appreciate Sarah's stubbornness and determination to have her own home hundreds of miles away from anyone she knows. Yes, a home is a wonderful place to feel loved and protected and I understand Sarah's past experiences left her feeling in greater need of a home of her own. But the whole idea seemed stretched. She wanted this new home on her own land but would have no one to share it with. She didn't seem to really want a "home" but rather a house and independence.
I received a copy of this book to read and give my honest review.