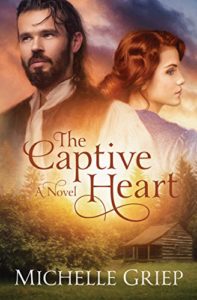 The Captive Heart
by Michelle Griep
I'm a mom and I homeschool my kids. I don't tell you this to brag or anything, just to preface this review by saying my day is usually so busy I only have time to read in the evenings after the kids go to bed. That being said, this book is so great I read it in one day. I knew from the description it would be interesting and I couldn't wait to start reading it. The kids were all occupied with afternoon reading or play so I dove right in. Sometime after 1am I finished it.
The unusual setting made the book all the more captivating. This isn't your standard mid-1800's story in the west. This story is set in 1770 in the colony of South Carolina. If you know your history, you will understand it was a dangerous time between the British, the Colonists and the natives of the area. Eleanor flees her governess position in London with only a reference from her previous employer and very little money, but when both are stolen on the trip across the ocean, she has few choices left. Eleanor finds herself indentured and married to a beast of a man, in name only and charged with caring for his small daughter.
Samuel is a man hardened by life, but trying to trust God. His connection with the Cherokee and his skills as a tracker make him a ideal spy, but he will have to make hard choices in that regard as well as how to handle the new unwanted wife in his home. Feelings make a complicated situation worse, but all the action and drama will keep the pages turning until the very end!
If you're looking for more than your everyday adventure, you won't want to miss The Captive Heart by Michelle Griep! This book is full of a wide range of real emotion from imperfect characters. You'll love the non-stop action and adventure as well as the not-often-explored setting of colonial America.
I received a copy of The Captive Heart from Shiloh Run Press/Barbour Books to read and give my honest review.