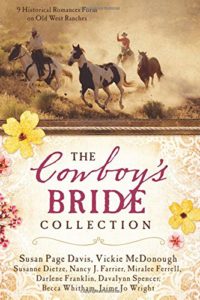 The Cowboy's Bride Collection: 9 Historical Romances Form on Old West Ranches
by Susan Page Davis, Vickie McDonough, Susanne Dietze, Nancy J. Farrier, Miralee Ferrell, Darlene Franklin, Davalynn Spencer, Becca Whitham, and Jaime Jo Wright
I've expressed my love for novellas before because sometimes you only have a couple of hours and you want a short and sweet story to read. This is another great collection of fun, emotion-evoking novellas you will love! Several of these stories made me wish they were full-length books because I just didn't want them to end.
The Cowboy Poet by Susan Page Davis – 4 stars
Rilla and Bat's story revolves around their mutual love for poetry. This is a sweet story but it failed to grab me or my heart.
For a Song by Susanne Dietze – 5 stars
In a crazy mixup about songbirds, Lily and her sister end up at Jackson's ranch. He's saddled with two unwanted women thanks to his aunt, but soon he comes to depend on Lily. I enjoyed this story a lot. There are funny and touching moments.
Crazy about Cait by Nancy J. Farrier – 5 stars
Cait can train horses better than anyone around, but when the calvary refuses to buy horses trained by a woman, her father hires Jonas – the one man she never wants to see again. I loved the struggles and emotions in this story.
Love's Sweet Storm by Miralee Ferrell – 3 stars
Addie is on her way to meet her betrothed, but when an accident lands her in the care of a local rancher, she wonders if her plans for a loveless marriage is possible after she falls in love with Grant. I really liked the plot of this story, but it felt so rushed I couldn't believe they were falling in love.
The Reformed Cowboy by Darlene Franklin – 5 stars
When one of the drovers in her class to teach cowboys manners catches her eye, Millie wonders if her long-time pen pal Wes is the one for her or if cowboys, like Mr. Wesley aren't as bad as she thought. I always love stories where the characters have real struggles. Millie is a snob and Wes resorts to lying about who he is to see if the girl he loves will accept him. A favorite in this collection.
A Texan's Surprise by Vickie McDonough – 4 stars
Trey finds his house full of women when his mother comes to visit and brings recently widowed Sadie, two daughters in tow, to stay as well. He can't turn them away and promises to help teach Sadie to be a rancher's wife so she can marry again. But when the suitors start coming to call, Trey realizes he doesn't want Sadie to go anywhere. I liked the idea, but this one felt rushed to me too.
The Wrangler's Woman by Davalynn Spencer – 5 stars
Josiah wants nothing more than to keep his family together, but when a relative threatens to take away his wild tomboy daughter, he asks Corra to teach Jess to be a lady. When summer is over will Jess be able to stay and will Josiah want to keep Corra too? The only thing I don't like about this story is the title. It just doesn't do it justice.
Cowboy Competition by Becca Whitham – 5 stars
Nia's ailing father won't leave her their ranch unless she hires a trustworthy foreman. The winner of his competition will get the job as long Nia agrees. Toby wants nothing more than to be free of his father's sins as a gambler and horse thief, but he's been turned away from so many jobs. How will Nia and her father react, even if he wins the competition? This is a great story of God's grace and forgiveness.
The Cowgirl's Lasso by Jaime Jo Wright – 5 stars
Jonah would rather have any other foreman on his ranch than CJ (Ceila Jo) and he'd send her packing except for the man they both love like a father asked him for the favor of hiring her. CJ can't stand Jonah's melding in her job and everything else about him. I loved to hate parts of this, but it felt oh so realistic. Pride really can ruin any relationship before it starts. Another emotion-gripping story!
As with any collection featuring different authors there will be one or two that don't suit my taste, but overall this collection was great!
I received a copy of this book to review from Barbour Books to read and give my honest feedback and review.