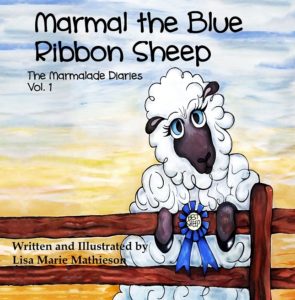 Marmal the Blue Ribbon Sheep is a new children's book by Lisa Marie Mathieson. My first impression of this book was the illustrations were adorable! Isn't Marmal just the cutest little sheep ever?! Her name is short for Marmalade and her personality is just as sweet as her name.
Without giving away too much about the book I'll just say this is a sweet story about being kind no matter what or who you come into contact with. I felt there were a few details added in that distracted from the plot, but my kids never noticed. They said one of their favorite parts was where Marmal brings her rat friend a treat from the fair.
Here's a cute preview of the book:

Marmal is a kind sheep to all she meets and her story gives a great example of how kids should act when dealing with others. I would recommend "Marmal the Blue Ribbon Sheep" to anyone with small children who love read-aloud books. I was given an advance reader copy of this book to review and provide honest feedback.