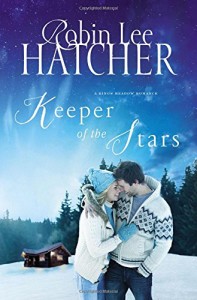 Keeper of the Stars
by Robin Lee Hatcher
What a sweet story!  I've loved country music since I was a little girl (at least until recently)  and this book struck a cord with me.  Trevor, the struggling singer puts aside his career and comes to town to help the family of his recently killed drummer.  Aww, what a sweetheart!  But Trevor is struggling with his new faith and his reasons for coming to their small town.
Penny has many deep hurts and the man she holds responsible shows up in her small town and seems to be putting down roots.  At first her hard demeanor bothered me, but with her brother's story woven through the book, Penny's hurts feel more real and I grew more sympathetic.  The friction between Penny and Trevor never eases up, but will it ease from hostile to something warmer?  This book is full to the brim with deep, real emotions from real characters, who are genuine and lovable.
Without giving away too much I'll just say I love the ending — happy but not too perfect.
I received a complementary copy of this book from the BookLook Blogger Program. I was not required to write a positive review. The opinions I have expressed are my own and unbiased.