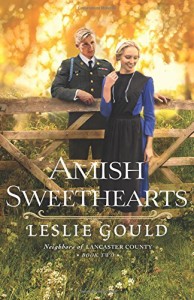 Amish Sweethearts
by Leslie Gould
This book is so well written I have to give it 4 stars. The story is sweet and interesting and kept my attention. Zane and Lila have been best friends throughout their childhood and adolescence, but when her Amish family expect her to marry within their faith, Zane responds to the uncertainty by joining the army.  The story is full of honest emotion and vivid details of both Amish and Army life.  I felt like I was really there with them.
I would have given the book a full five stars if the ending hadn't been so abrupt. The closer I got to the end I hoped it would wrap up, but it left off with the very smallest amount of closure. I can't say more without spoiling the story, but I don't like to be left hanging. I assume Zane and Lila's story will continue in the next "Neighbors of Lancaster County" book, at least I hope so.
I received a complementary copy of this book from Bethany House Publishers. I was not required to write a positive review. The opinions I have expressed are my own and unbiased.