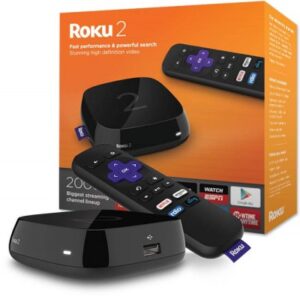 What led to this purchase: We don't have cable (too far out in the country) and satellite TV isn't in the budget. We do subscribe to Netflix and we have Amazon Prime too, but our outmoded BluRay player doesn't have Amazon and the poor old Netflix app would barely run. So I asked for a Roku 2 for an early birthday present.
We haven't been disappointed!!  Here's what we love so far:
Hubby and I really like FXNow, HGTV, A&E and the live local news we can stream.
The kids are constantly asking to watch PBS Kids, Disney Junior, and Nick Jr.
Netflix is right there for benge watching our favorite shows, new and old.
Amazon Prime Video has most of the old shows Netflix is missing.
The YouTube channel is so helpful for homeschooling.  Our World Geography study goes so much smoother now that I can stream a documentary on the TV instead of them squinting at a small screen.  (Parental Controls are in the settings so you can hide all the inappropriate videos.)
Some notes:
A ton of the channels are completely free — PBS Kids, YouTube, etc.
TV channels like A&E, Disney Junior, etc. require you to login with a TV (cable or satellite) provider to view some or all of the content.  Some channels let you see a few episodes for free without logging in.
There are several free news channels you can stream for free.  We can get Fox News and WSBTV out of Atlanta.  Just search for a large city near you or even one you think might be relevant.
Be sure to buy an extra HDMI cable — the player does not come with one.
We chose Roku 2 over the other versions because it best suited our budget and how we planned to use the player.  I recommend comparing all the Roku versions before you buy.
I would recommend the Roku (any version) to anyone who:
Would like to stream with Netflix, Amazon Prime Video, Hulu, Sling, etc.  These are great alternatives to paying for full TV service.
Has cable or satellite, but you don't want to pay for an additional box.  Just hook up the Roku to another TV in the house (or in your camper or some hotels), connect to WiFi, use your TV provider login info, and watch.