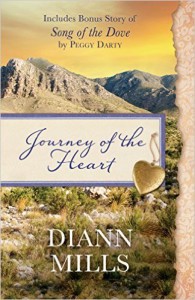 Journey of the Heart
by DiAnn Mills
Katie Colter's father has died and his last wish was for her to join her only living family at the nearby Fort Davis. She doesn't want to leave the Comanche tribe she has grown up with or the indian warrior she has been pledged to marry. But a promise is a promise so Katie sets out for the fort and a new life there.
Sergeant Peyton Sinclair is the first person to welcome Katie to the fort and help her get settled at her aunt and uncle's home. Adjusting is difficult, but most perplexing for Katie is trying to put aside her beliefs in the pagan gods of the Comanche. She also struggles knowing the rising tension between the whites and the Comanche are because she abandoned her warrior fiancé.
I had a hard time rating this book. My instincts said three stars, but in the end I decided overall it deserved four stars for a few redeeming qualities. DiAnn Mills is one of my favorite authors so I had high hopes for this book, but it just didn't deliver in most aspects. The story starts out dramatically with the death of Katie's father and her relocation to the Fort, but it soon levels out to show the mundane life Katie now has. Peyton begins to show interest in Katie, but I felt the romance between them was a little flat. Feelings just appeared, which felt odd. The story does pick up as the Comanche start to cause trouble around the Fort and Katie feels it is her fault. The most redeeming part of the book is near the end and I felt the exciting ending deserved four stars, despite the rest of the book being a little boring.
Another reason I had to give this book four stars is the bonus novel Song of the Dove by Peggy Darty, which is included. This was a very nicely written story about an abandoned half-indian baby raised by white settlers only to be brought back to the death bed of her dying birth mother, at which point her whole world is turned upside down. This story too had its slow parts, but overall it was a great story.
Barbour Books gave me a copy of Journey of the Heart to review. I was not required to write a positive review, only my honest opinion.