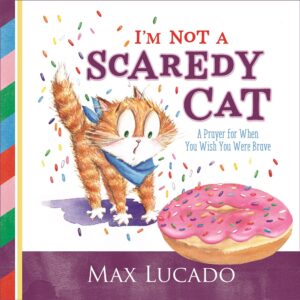 Everyone gets scared, but it seems kids have a harder time overcoming fears. Often times it is hard to ease a child's fears because they have such a vivid imagination. I'm Not a Scaredy Cat is an adorable new children's book by Max Lucado all about trusting God when you're scared. Through the story the cute cat denies he's a scaredy cat except in certain situations, then shares the prayer he prays to help him not feel scared anymore.
The illustrations in this book are eye-catching and colorful. My kids especially liked the details of the cat when something scared him. He's just so cute! The reason we give it 4 stars is my kids would have liked it better if the story rhymed and flowed better. Our 3 year old usually sits well for catchy rhyming books, but he wasn't interested in this after the first page.
I would recommend I'm Not a Scaredy Cat for children 4-7. I received a complementary copy of this book to read and give my honest review.
Enter for a chance to WIN a copy click by clicking the banner below.