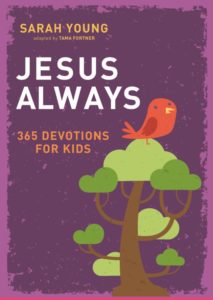 Our family has a daily devotion time right before bed each evening to wind down the day. We received a copy of the new children's devotional by Sarah Young called "Jesus Always 365" to read. The book features one devotion for every day of the year. Each devotion includes a verse of scripture, text, and additional scriptures for the child to look up themselves. The theme of the book is described by the publisher:
From the bestselling author of Jesus Calling® embrace the true meaning of joy with the young believers in your life in Sarah Young's newest 365-day devotional, Jesus Always: 365 Devotions for Kids.
The book is well laid out, but my kids (age ranges from 3 up to 11) weren't very interested in reading this as a group. The devotion text is written from Jesus' perspective which is confusing when reading it aloud. My two older kids (11 and 9) read a few of the days on their own, but quickly lost interest. They said they didn't care for the words being as if from Jesus and I have to agree. I read through several days throughout the book and found them to be somewhat dry and not very engaging for children. In my opinion the point of the lessons are good for kids, but the execution seems to be more on a tween or teen level of understanding.
If you have an older child who might like a devotion from Jesus' perspective be sure to check out this giveaway! You can enter for a chance to win a copy of Jesus Always 365 from FrontGate Media by clicking the banner below.


Thank you to FrontGate Media for sending me a free copy to review.