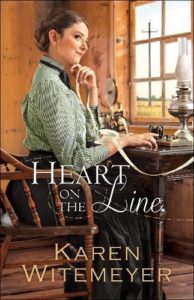 Heart on the Line by Karen Witemeyer is an adorable historical romance that delves into the world of telegraph operators. Grace was witness to a terrible crime and she is hiding in the small town of Harper's Station (a sanctuary for women in need). She works as the town's telegraph operator and has formed a friendship with Amos, a fellow operator in a neighboring town. Amos learns of Grace's troubles and comes to Harper's Station to help, but trouble is about to find them both!
This is book #2 in Witemeyer's series "Ladies of Harper's Station" (you can find my review of book #1 here) and I enjoyed this one as much as the first! Grace and Amos' story is as sweet as it is entertaining. I really like the character of Amos and how he isn't traditionally masculine like you normally see in western historical fiction, but more studious and bookish. Having a non-traditional male lead is refreshing and makes the story that much more interesting! I love the bit of mystery in this series also.
Ms. Witemeyer continues to be one of my favorite authors and I'm excited to see what's next for the Ladies of Harper's Station! I would recommend Heart on the Line to anyone who enjoys historical fiction! I received a complementary copy of this book from the publisher to review and give my honest opinion.