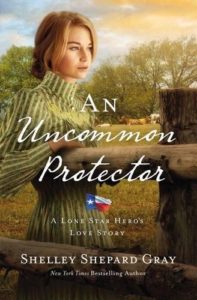 An Uncommon Protector by Shelley Shepard Gray is all about trust in the time of hardship. Laurel is a widow who needs help and protection on her ranch. Thomas is a prisoner who longs to be free. Desperate to save her ranch, Laurel uses the last of her money to pay Thomas' fines and he agrees to work for her for one year. More trouble soon finds them and they must struggle against current issues and deal with past hurts – together.
I had the pleasure of reviewing book #1 in the "A Lone Star Hero's Love Story" series as well and this just continues the wonderful story of a group of soldiers imprisoned together during the Civil War. I do love a good underdog story and Laurel and Thomas both qualify. Thomas is thrown into jail for fines he can't pay but he is a good-hearted man who suffered greatly during the war. Laurel is fighting to save what she has left of her life and stop squatters determined to live on her land. This story is full of emotion and life-like characters, which made me feel invested in the story from start to finish.
I would recommend An Uncommon Protector to anyone who loves the post-war Reconstruction Era and a good love story! I received a copy of this book from the publisher for the purpose of giving an honest review.