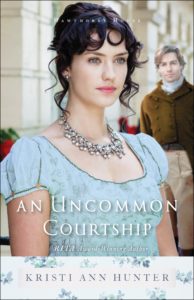 An Uncommon Courtship by Kristi Ann Hunter is a Regency Era novel and it's book 3 in the Hawthorne House series. I have had the pleasure of reading all of the books so far and I have loved all of them, including the prequel novella. This has probably been my least favorite, but it is still a good book. Adelaide has a perfect reputation after living in her sister's shadow, but one move lands her in a compromising situation. Trent has plans to fall in love and marry the woman of his choosing, but his choice is taken away when he finds himself honor-bound to marry Adelaide whom he doesn't even know. Can Trent learn how to treat a wife he didn't want and can Adelaide learn to love a man she was forced to marry?
I enjoyed this book mostly because of the humor and the details of the era. Both Trent and Adelaide have a witty sense of humor and several quirks and this kept the book flowing when the plot lagged (and it does lag several places). This book is different than others like it because it paints a picture of what Christian marriage actually looks like, especially during this time period when arranged marriages happened all the time. The choices the characters make give a great look at what it takes to build a good marriage – the choice to love someone, not be dominated by feelings.
Ms. Hunter is one of the best authors I follow and the number one reason is how well researched her books are. She gives great descriptions and details other authors skip when it comes to historical and Regency novels. I highly recommend An Uncommon Courtship and the entire Hawthorne House series of books! Please read my review of An Elegant Façade and watch for my review of An Inconvenient Beauty soon! I received a courtesy copy of this book from the publisher to read and give my honest feedback.