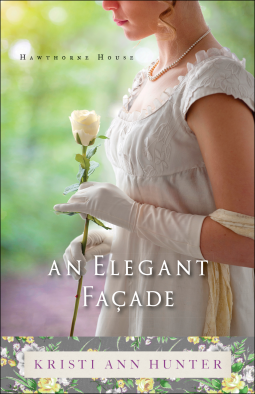 An Elegant Façade (Hawthorne House Book #2)
by Kristi Ann Hunter
You will love to hate her…at first. Lady Georgiana is snobby and calculating. She has let fear completely rule her life. She has a goal and she doesn't care who she steps on to get it, even her own family. After the first few chapters I was sure I wasn't going to like her – ever – but she grew on me.
This book is full of depth and emotion as we see Georgiana struggle to hide her "malady" from everyone but her most trusted lady's maid. Finding a husband with enough power and money to cancel out her socially unacceptable shortcoming is the only way to protect herself and her reputation, isn't it?
Hiding her secret from her family has made them all think she's spoiled and petulant (and she really has become exactly what they think she is), but when Mr. Colin McCrae (obviously not a peer of the realm she wants to be associated with) continues to cross her path we see his kindness and whit challenge everything Georgiana thinks knows about herself.
I laughed. I cried. I changed my mind about Georgiana, and I think you will too. This is a story full of ups and downs and all the things that makes a great story.
This is the second full length novel in the "Hawthorne House" series by Ms. Hunter. Having snagged the precursor to this series A Lady of Esteem: A Novella for free (you can too!) I loved the fun style so I purchased Book #1 A Noble Masquerade which I loved. When Bethany House offered me An Elegant Façade to review I couldn't pass up the chance to read more about this family. I truly can't wait to see what will come in Book #3!