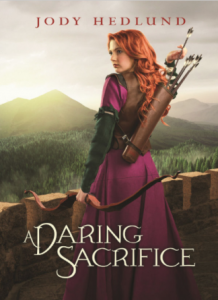 A Daring Sacrifice
by Judy Hedlund
As a mother of four I very rarely run across a book that is so good I can read it in one day (novellas do not count!) but this is one of those rare finds. I started A Daring Sacrifice just after lunch and finished it before bed. Yes, it was that good!
Ms. Hedlund grabbed and kept my attention throughout the story. The characters were deep, well described (physically and mentally), and felt very real. The settings were not overly described, but I don't think that is a bad thing. Minimal setting descriptions left room for my imagination to work.
I am a fan of historical novels, but especially those of an usual time period like this medieval setting. It reminded me a lot of a Robin Hood type story because of the time period, but also because of the theme.
I received a complementary copy of A Daring Sacrifice from the BookLook Blogger Review Program. I was not required to write a positive review. The opinions I have expressed are my own and unbiased.