Warm & Natural is my favorite quilt batting. It is soft and easy to work with. Out of the package it is usually wrinkled and creased from being folded, but it smoothes out easily without stretching or needing to iron it, though you can iron it if you need to.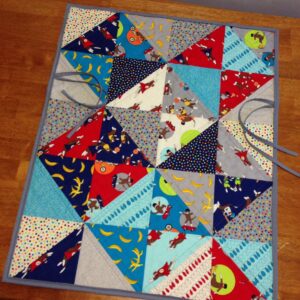 This batting works very well with spray basting (I use Odif 505). It feels a little stiff after quilting and the first wash, but after some use the quilt softens up and feels like a quilt should. The loft (height or squishiness) is low on this batting. It will keep you warm, but not too warm.
I've used Warm & Natural for 10+ quilts (including the one pictured to the left) and have never had any trouble. I highly recommend this batting for all types of quilting projects!