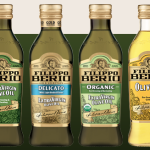 Filippo Berio® Extra Virgin Olive Oils
I had two flavor intensity options to choose from:
Robusto
Robusto's intense fruitiness adds a lively burst of flavor to a variety of recipes. It works perfectly as a marinade for meat and poultry, is a wonderful base for your favorite sauces, and delivers a great finish for grain salads, bean salads, and roasted vegetables.
Delicate
Delicato's mildly fruity flavor and mellow finish complement your creativity by allowing other recipe ingredients to shine through. Enjoy this smooth-tasting olive oil on seafood, sandwiches, fresh fruit, and as a dressing for your signature salads.
I will warn you cannot find these two particular types of Filippo Berio® oil in some stores yet. Kroger doesn't have it. We were able to track it down in Publix and a friend said she saw it at Bi-Lo. It is worth the effort to find it!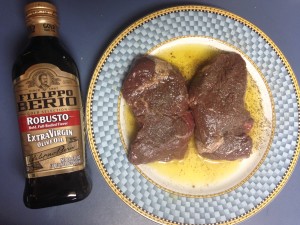 We decided to try the Robusto because we eat a lot of meat and poultry. Hubby used it on our steaks for my early birthday lunch. This oil was a great replacement to the butter we usually use. He used the Filippo Berio® Robusto Oil, salt, and pepper then pan seared them before baking in the oven until done. Delicious!!
This oil has a nice flavor without being bitter. I want to try and make some of the copy-cat Carababa's seasons to sprinkle in the oil and dip in some fresh bread. My mouth is watering just thinking about it.
I received a sample of this product from Influenster to try. I was not required to write a positive review. The opinions I have expressed are my own and unbiased.
Want to see what I received in my VoxBox? Unboxing video: