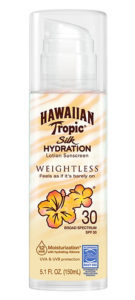 Summer is here and it is time to get serious about protecting all that exposed skin while we swim or enjoy the outdoors.  Its easy to remember to lather on the SPF for our kids, but sometimes us moms forget about our own skin.  If you are like me, applying lotion sunscreen is a pain and produces a smelly, sticky mess.  But spray sunscreens are difficult to apply evenly and there are all those chemicals in the air too.
When asked to review Hawaiian Tropic® Silk Hydration™ Weightless Lotion Sunscreen I had my reservations, but I proved its claims to provide broad spectrum protection from UVA & UVB rays, hydrate my skin, and feel weightless.
Here's what I found:
It smells wonderful! Some sunscreens smell like coconut or flowers, but this has a fresh "beach" smell that isn't too sweet or overpowering.
It goes on like all other sunscreens. When I first read the name I assumed it would be like a foam or super thin cream that wouldn't cover or would take too much to get adequate sun protection. I was wrong. It is a cream and spreads just like all sunscreens I've used before.
It doesn't feel sticky – it really is weightless once it dries. After about 2 minutes I couldn't feel the difference between the spot where I first tested it and the rest of my arm. The only indication is the smell.
I would recommend this sunscreen to anyone who wants great smelling sunscreen that doesn't leave behind a stick residue.