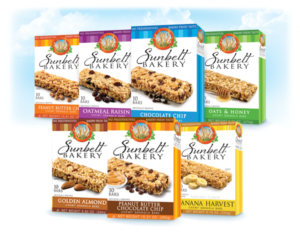 I received one of these bars (Oat & Honey variety) in my newest VoxBox from Influenster. I'll admit I was going to pass it along for my kids to try since I'm not usually a "granola" type of person. I threw it in my purse thinking to split it between them as a snack if lunch was running a little late.
Well we were shopping one morning after I had skipped breakfast, and I was pretty hungry. I remembered this bar in my purse and I'm so glad I tried it! Hunger was gone and I discovered a new (dare I say healthy) snack I will be keeping on hand from now on.
When I think of granola bars I usually think of the words crunchy and dry, but these Sunbelt Bakery Bars were not either one. The bars are lightly sweetened with honey and molasses. The oats aren't super crunchy and are easy to chew. I really love that they contain no preservatives!
ALLERGY INFORMATION: CONTAINS COCONUT, SOY, PEANUTS, ALMONDS, EGG, MILK, WHEAT. MAY ALSO BE PRESENT IN THIS PRODUCT: OTHER TREE NUTS.
Sorry I don't have a photo of the bar, but it didn't last long enough to get a pic 😉